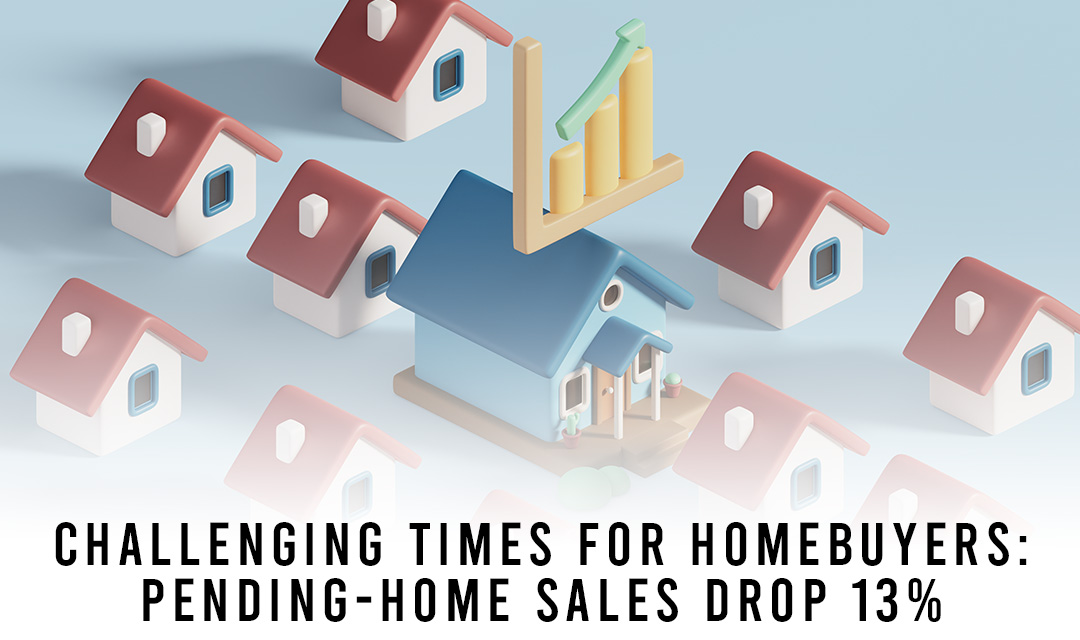 In today's housing market, prospective homebuyers are facing significant challenges. According to a recent Redfin report, pending-home sales have plummeted by 13% compared to this time last year. The culprits? Soaring mortgage rates and rising home prices have left many potential buyers in a holding pattern. However, amidst these difficulties, there's a glimmer of hope, with new listings showing a slight improvement since early September.
Soaring Rates and Home Prices:
Escalating mortgage rates and home prices are the main culprits behind the declining affordability of homes. Over the four weeks ending on September 17, pending-home sales fell by 13%, casting a shadow over the dreams of many aspiring homeowners. Skyrocketing mortgage rates have pushed monthly housing payments to record highs, causing potential buyers to wait for a more favorable market. Additionally, median home prices have increased by 3.4% year-over-year, averaging $374,975 during the same four-week period.
Shrinking Inventory:
The shortage of available homes is exacerbating the challenges buyers face. Many homeowners are opting to stay in their current homes to maintain their relatively low mortgage rates, leading to a 16.2% decrease in total active listings compared to a year ago, with only 806,701 homes on the market. This shortage continues to intensify competition among buyers.
A Ray of Hope:
Amidst the bleak statistics, there is a silver lining for potential homebuyers. New listings, which had been on a sharp decline, have recently stabilized, showing a slight increase since the start of September. This stability suggests that the market may be finding its footing amid the turbulence.
HousingWire analyst Logan Mohtashami noted that the last four weeks ending September 17 have been the most volatile since mortgage rates exceeded 6% in 2022. "In one week, we had the biggest decline in new listings data all year, which might indicate Americans are giving up on listing their homes. But the next week, we had the biggest increase of the year, which might show that people are rushing to list their homes," Mohtashami explained.
While new listings are down 6.7% from a year earlier, it's important to remember that they were plummeting rapidly at this time last year, suggesting that the current situation may not be as dire as it seems.
Future Uncertainty:
Looking ahead, uncertainty looms over the housing market. The Federal Reserve recently announced that interest rates are likely to remain elevated into 2024 and 2025, indicating that mortgage rates are unlikely to cool off anytime soon. This decision may not provide much comfort to homebuyers, as borrowing costs and mortgage rates are set to stay high.
For those who can enter the market now, there may be an incentive to do so before home prices and interest rates rise further. The evolving housing market underscores the importance of staying informed and being prepared to adapt to changing conditions.
Prospective homebuyers are facing an uphill battle in today's market due to soaring mortgage rates and escalating home prices, which have led to a 13% drop in pending-home sales. However, a recent uptick in new listings offers hope for those in search of a home. As the housing market continues to evolve, staying informed and making informed decisions remain crucial for aspiring homeowners.
Reference : www.HousingWire.com