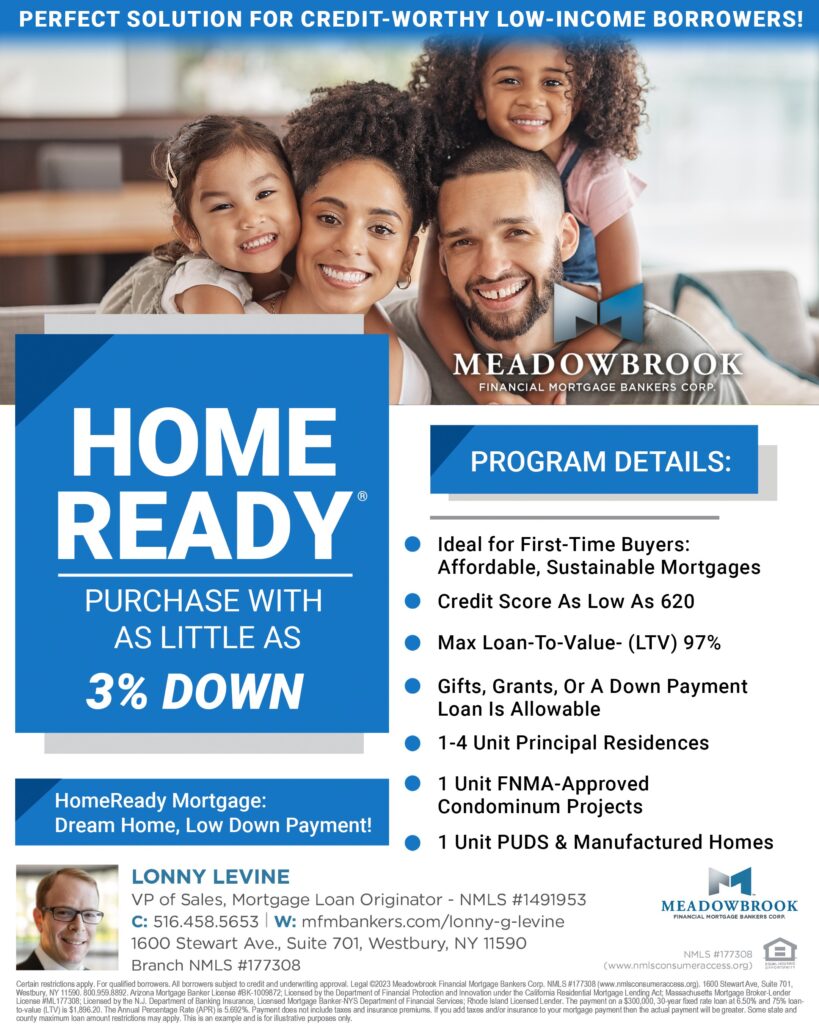 Are you ready to turn your dream of homeownership into a reality? MFM Bankers is here to make it happen with our HOME READY® Loan Program. We understand that the journey to owning your dream home can sometimes be filled with hurdles, but our program is designed to simplify the process and provide you with the keys to your ideal home. Let's take a closer look at what makes this program so special.
🏡 Affordable Homeownership: Our primary goal is to make homeownership more accessible and affordable for everyone. Whether you're a first-time buyer or looking to upgrade your current residence, the HOME READY® Loan Program is designed with you in mind.
💰 Low Down Payment: One of the most significant barriers to homeownership is the down payment. With our program, you can enjoy the advantage of a low down payment, making it easier to get your foot in the door of your dream home. This means that your homeownership dreams are within reach, even if you're working with a tight budget.
📈 Competitive Interest Rates: We offer competitive interest rates that can save you money over the life of your mortgage. By choosing our HOME READY® Loan Program, you're not only achieving your homeownership dream but also making a financially savvy decision.
🔑 Simplified Approval Process: Nobody likes dealing with complicated and time-consuming approval processes. Our program ensures a straightforward and hassle-free experience. We want you to secure your home loan without unnecessary stress and delays, so you can start enjoying your dream home sooner.
👪 Designed for All: Whether you're a first-time homebuyer or a seasoned homeowner looking to upgrade, our program is designed to accommodate everyone. We believe that homeownership should be accessible to individuals and families from all walks of life.
🌟 Expert Guidance: At MFM Bankers, we understand that the world of mortgages and real estate can be overwhelming. That's why our team of experienced bankers is here to guide you through every step of the process. You can count on us for expert support, ensuring a smooth and stress-free experience.
Your journey to homeownership starts here with MFM Bankers' HOME READY® Loan Program. We're passionate about helping you achieve your dream home, and we have the tools and expertise to make it happen. Contact us today and let's start turning your dream into a reality.
#HOMEREADY #LendingWithLonny 🏡💰📈🔑👪🌟
So, if you're ready to take the next step toward homeownership, MFM Bankers is ready to help you make your dream home a reality. Don't let homeownership remain just a dream – let us assist you in opening the door to your new life.